By The Society of Cannabis Clinicians
In the wake of the vaping crisis that has caused a number of hospitalizations and deaths in the USA, Puerto Rico, and the Virgin Islands, the Society of Cannabis Clinicians has been monitoring the issue and potential considerations for public health. Key findings, published in Morbidity & Mortality Weekly Report confirm a decline in emergency department visits related to EVALI (vaping-related lung damage). This could be due to a large amount of press that the issue has received. Additionally, more consumers may be abstaining from vaping.
In a study published in The New England Journal of Medicine involving 51 patients with EVALI in 16 states, vitamin E acetate was detected in samples of bronchoalveolar-lavage fluid from 94% of the patients (12/20/19) by the Food and Drug Administration.  While it appears that vitamin E acetate is associated with EVALI, there are many different substances and product sources that are being investigated, and there may be more than one cause. The FDA mentioned that the best way for people to ensure that they are not at risk while the investigation continues is to consider refraining from the use of all e-cigarette or vaping products.
But is prohibiting vaping as a mode of administration for cannabis medicine an appropriate approach to this situation? Vape pens are a popular and easy to use method that certain demographics favor. For example, elderly patients with arthritis may benefit from pain management by using a vaporizer pen with easy-to-install cartridges, but may find it difficult to properly break up flower and put it in a vaporizer, pipe, or joint. Some critics of vape pen products have noted that other easy to use alternative options, such as sublingual oils, exist.
In light of these considerations, the SCC sent a poll to our membership to gauge how those within the organization were approaching the issue.
What Clinicians are learning and telling patients about vaping
In response to a questionnaire, 67 members of the Society of Cannabis Clinicians reported what they were advising patients (34% of whom said they used vaporizer products regularly).  Their recommendations were wide-ranging:
Use only regulated products that have been tested
Buy from a dispensary AND vape flower only
Vape flower only (don't use oil-filled cartridges)
Use delivery systems other than vape pens
Vaporize only organic products
Use vape products without any additives
Vaporize using the lowest heat setting that will produce vapor
Ask to see a certificate of analysis (COA) that tests for cannabinoid, terpene content, and contaminants (heavy metals, microbials, pesticides); learn more about the product and its manufacturer at the dispensary and online
Many clinicians also told their patient base to be aware of imitation products that look almost identical to regulated products. They recommend not buying products from any source other than a licensed dispensary. None of the respondents mentioned or advised banning vape products.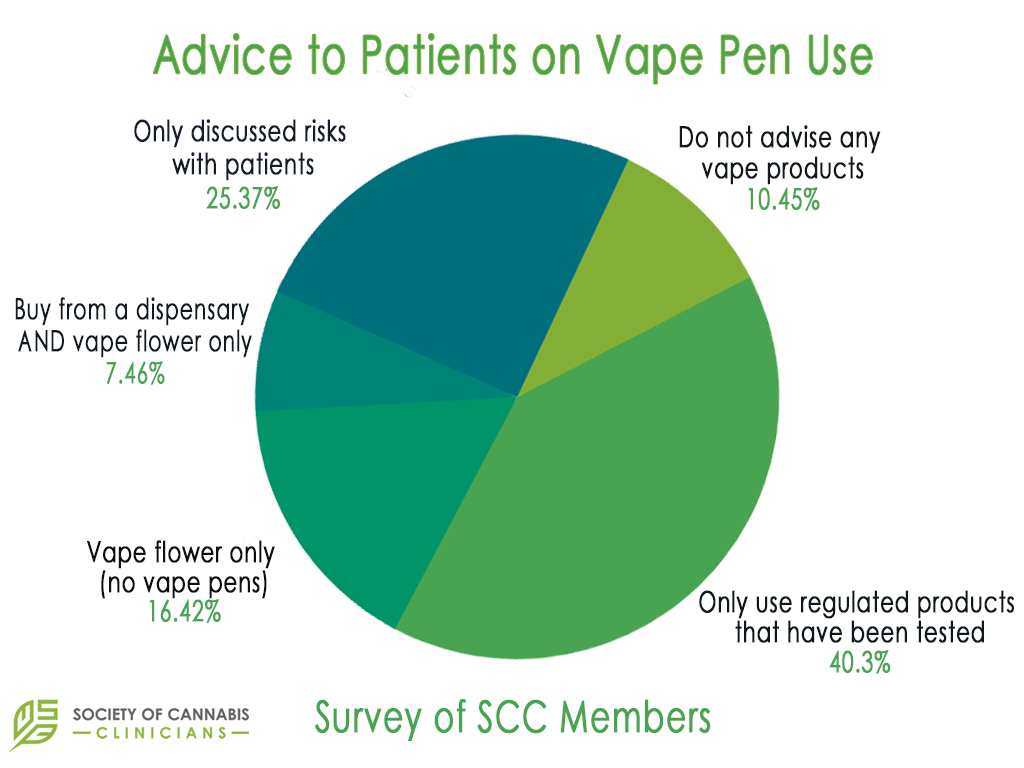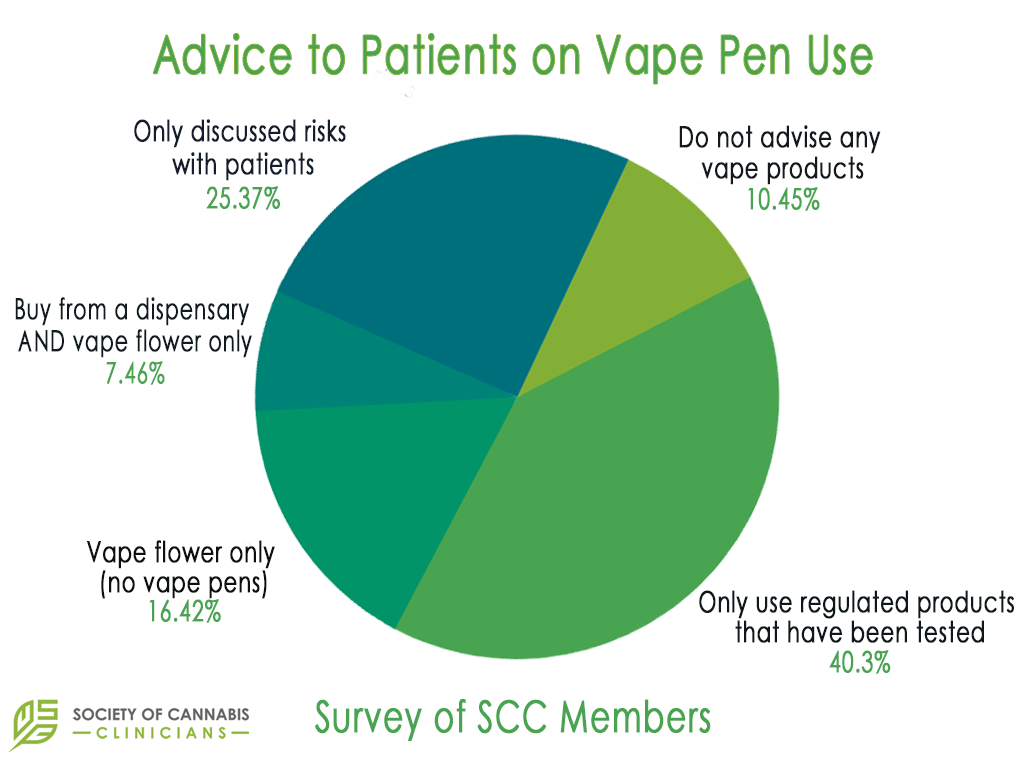 Vaporize only organic products (2 respondents)
Use vape products without any additives (7 respondents)
Vaporize using the lowest heat setting that will produce vapor, not combustion (2 respondents)
Patients reporting pulmonary symptoms
Four survey respondents (6%) had seen patients who experienced pulmonary symptoms as a result of vaping. Of these:
1 patient experienced chest discomfort and an "inflammatory" response that lasted through the night and into the next day. The patient stopped using cannabis after that experience.
1 clinician diagnosed two young men for EVALI. Neither of them plans on vaping again.>
1 clinician reported seeing patients with pulmonary symptoms after using products with additives. They abstained from using vape products after that.
1 patient had "unusual pains" after using a CBD vape pen from the illicit market. Their symptoms stopped after vaping was discontinued. The patient now uses products from dispensaries only.
Dr. Jahan Marcu on Vaping Risks
Jahan Marcu, PhD, the Chief Science Officer and co-founder of the International Research Center on Cannabis and Health, was the featured speaker at the SCC quarterly meeting on December 8th, 2019. His topic was on "Vaping Risks and Product Safety". The vape crisis affects people of all age ranges, Marcu said. It was made possible by an unregulated and illicit market. The underground market has no quality control and cannot be relied upon to give patients safe options.
Dr. Marcu emphasized that many vape pens are actually burning the plant material or concentrate, rather than turning it into vapor. If coils on the vape pen devices are red hot, then the substance is being burnt rather than vaporized. It is important to distinguish between vaporizers and vape pens. Devices that vaporize flowers, such as the Volcano and Pax, have shown improved lung function in a clinical setting and are being used in clinical trials. They have the advantage of temperature control, which is useful in delivering cannabinoids and terpenes. These vaporizers are more expensive than devices with cartridges filled with cannabis oils. Handheld vape pens and cartridges are typically inexpensive, have disposable hardware, and pose the most risks.[1]
Full video is available to SCC members here.
Cartridges may contain additives and thinning agents, such as Vitamin E acetate. Vape cartridges with oils high in diluents and emulsifiers have led to the epidemic of lung damage (EVALI). According to Marcu, Vitamin E acetate does not account for some of the pain, digestive problems, and nausea that people have attributed to using vape pens. When a case of EVALI is reported, it is difficult to pinpoint the source as these products are typically coming from the unregulated market. Isomers of Vitamin E have different effects on inflammation, which makes it difficult to study the toxicological impact. More analysis has to be done in order to discern which specific symptoms are linked to which additives or constituents.
Discussion and Considerations for Clinicians
Currently, there is a lack of information for physicians as to what constitutes safe use for patients and consumers. Further testing on vaporization needs to be done to ensure safety. Marcu hopes industry professionals will educate regulators.
States are banning vape pen products in an attempt to improve public health. However, Marcu observed, it is regulation that minimizes risks to consumers. Vape bans only punish those who are in the legal market and not the illicit purveyors. Physicians are urged to stay informed on the latest information coming out on the subject in order to educate their patients.
The SCC Member Vape Survey results indicate that patient education is an essential tool to help to evade some of the potential risks to vape pen products. Until further research is done on which specific issues are linked to specific constituents, consumer discretion is advised. During this time it is important to review the facts and stay abreast of new information to best understand the nuances of this complex situation.
Sources
Marcu, Jahan. "Vaping Risks and Product Safety". SCC Quarterly meeting, 2019.
Hawkins, Derek. "Doctors Say They've Performed The First Double Lung Transplant Due to Vaping".The Washington Post, Nov. 14, 2019. Link
Further Reading
https://www.cannabisclinicians.org/wp-content/uploads/2020/03/vape-pen-risks-doctors-advice-1.jpeg
1500
2250
Nikhil Jain
https://www.cannabisclinicians.org/wp-content/uploads/2020/06/scc_logo-long-R-2-1.png
Nikhil Jain
2020-01-13 07:19:22
2021-12-27 04:41:52
Update on the Vape Pen Crisis: Considerations for Healthcare Professionals