Event Description
Join us for the upcoming SCC Quarterly Meeting featuring Dr. Lauren Streicher as she shares her presentation on "The Use of Cannabinoids in Menopause."
If you are not an SCC member, please click "Sign Up" at the top of the page in order to Register. The event is free for SCC member, and $20 for non-members. To learn more about the Society of Cannabis Clinicians or join as a member, click here.
Learn More About This Event:
There are over 60 million menopause women in the United States, and over 80% of those women experience debilitating  and life shortening symptoms such as hot flashes and insomnia. Only 7% get a prescription to relieve those symptoms since there is a persistent (and false) perception that estrogen is dangerous. Many post menopause women are turning to cannabis. Dr. Lauren Streicher, a clinical professor of Obstetrics and Gynecology at the Feinberg School of Medicine, Northwestern University, and the Medical Director of the Northwestern Medicine Program for Menopause will discuss the potential role of cannabinoids in menopausal women.
Meet Dr. Lauren Streicher: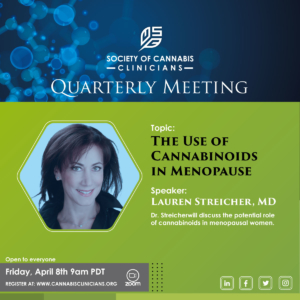 Lauren Streicher, MD is a clinical professor of obstetrics and gynecology at Northwestern University's Feinberg School of Medicine, and the medical director of the Northwestern Medicine Center for Sexual Medicine and Menopause. She is a certified menopause practitioner of the North American Menopause Society, a member of the Sexual Medicine Society of North America, Inc., The International Society for the Study of Women's Sexual Health, and The Scientific Network on Female Sexual Health and Cancer. In addition to authoring multiple scientific publications, she has written multiple consumer books. Her most recent releases are Slip Sliding Away: Turning Back the Clock on Your Vagina and Hot Flash Hell: A Gynecologist's Guide to Turning Down the Heat.
Dr. Streicher is the medical correspondent for Chicago's top-rated news program, the WGN Morning News, and has appeared multiple times on The Today Show, Good Morning America, The Oprah Winfrey Show, CNN, NPR, Dr. Radio, Nightline, Fox and Friends, The Steve Harvey Show, CBS This Morning, ABC News Now, NBC Nightly News, 20/20, and World News Tonight. She lives in Chicago with her writer-producer husband, Jason Brett, and their dog, KJ.