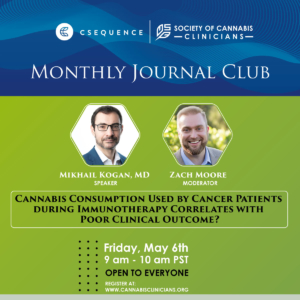 Friday, May 6, 2022 at 9am PDT / 12pm EDT
Research Presentation: SCC & CSequence Presents Journal Club: "Cannabis Consumption Used by Cancer Patients during Immunotherapy Correlates with Poor Clinical Outcome!"
Speaker: Dr. Mihkail Kogan
Moderator: Zach Moore, PhD
Event registration link:
https://cannabisclinicians.tradewing.com/event/YsyEfdp5favrgo2r7
Join us for an educational discussion with Mikhail Kogan, MD as he highlights his recent research article "Cannabis Consumption Used by Cancer Patients during Immunotherapy Correlates with Poor Clinical Outcome."
Learn More About Mikhail Kogan: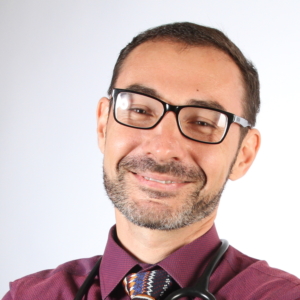 Dr. Mikhail Kogan, MD is a Medical Director, GW Center for Integrative Medicine, and the Assistant Professor, George Washington University School of Medicine and Health Sciences.
He is an Integrative Medicine Fellowship Director, Primary Care Internal Medicine, Integrative Geriatrics, Functional Medicine, Integrative Palliative Care Physician.
He is also the founder and Executive Director of ex-officio, of AIM Health Institute, a 501 (c) (3) non-profit  organization
Dr. Kogan is a founding Board Member of the American Board of Integrative Medicine, and a Board Member of the Art of Healing Foundation.
Dr Kogan is a leader in the newly-established field of Integrative Geriatrics. He is the chief editor of the first definitive textbook of the field entitled "Integrative Geriatric Medicine ", published by Oxford University Press as part of Andrew Weil Integrative Medicine Library series and is frequent speaker at a variety of international conferences on the topics of Integrative Medicine and Geriatrics, healthy aging, and geriatrics, as well as neurodegenerative diseases, and use of medical cannabis. Additionally, he has published in both Integrative and Geriatric topics in leading US-based journals.
Dr. Kogan currently serves as medical director of the GW Center for Integrative Medicine and associate director of the Geriatrics Fellowship Program. He is the founder and director othe George Washington University Integrative Geriatrics Fellowship Track and the director of the Integrative Medicine Track program at the George Washington University School of Medicine, as well as serving as part-time faculty member of the George Washington Institute for Spirituality and Health, and the GW Center for Aging, Health and Humanities.
In addition to his academic roles at George Washington University Dr. Kogan serves on a number of national boards and organizations including: the American Board of Integrative Medicine within the American Board of Physician Subspecialists (ABPS), ProCure Art, PlantMed, and others. Dr Kogan is also the founder and the chair of the board of AIM Health Institute, a 501(c)(3) non-profit organization in the Washington, D.C. metropolitan area that provides integrative medicine services to low-income and terminally ill patients regardless of their ability to pay.
For Dr. Mikhail Kogan, the practice of medicine, much like the rest of his life, has been a journey spanning many miles and many cultures, with valuable new learning and different perspectives accruing from each stage along the way. Those many experiences – here and abroad, in the classroom and the clinic, professionally and personally – have given Dr. Kogan the skills, , openness, and inquisitiveness that set him apart, and distinguish him as a committed and caring practitioner within integrative medicine.
Born in Moscow, in the former Soviet Union, Dr. Kogan emigrated with his family in his teens, first to Israel,and then to the United States, where he obtained his medical degree from the Drexel University College of Medicine in Philadelphia, Pennsylvania. He followed a Primary Care and Social Medicine Track residency in Internal Medicine at Montefiore Medical Center in New York City, and a fellowship in Geriatric Medicine at the George Washington University Medical Center in Washington, D.C., which led to a position as an assistant professor of medicine in the Division of Geriatrics and Palliative Care.
In addition to his training in conventional Western medicine, Dr. Kogan has actively pursued a number of other healing arts and practices that have shaped his understanding of and approach to patient care. He is a graduate of a two-year training course in craniosacral therapy–a subtle osteopathic modality that has a wide range of effectiveness for different conditions such as headaches, back pains, and fatigue. He has also completed a four-year program at the Suluk Academy, a teaching center based on the principles and traditions of Sufism, where he learned how to incorporate meditation, mindfulness, and different spiritual practices into his daily life and his work with the patients. Among his many other areas of study are courses in Nutrition, therapeutic use of vitamins, Functional Medicine, botanicals, and other alternative modalities.
Weaving those tools into the fabric of his medical practice has enabled Dr. Kogan to provide innovative and effective treatments to his patients with minimal use of invasive procedures or heavy reliance on medications and to understand the importance of self-exploration, awareness and positive lifestyle changes as essential milestones on his patients' journeys towards better health. Dr. Kogan is dedicated to helping patients with Alzheimer's disease identify and correct underlying metabolic drivers work, which is primarily based on Dr. Dale Bredesen's research and newly created ReCode protocol.
Dr. Kogan practices Geriatric and Integrative Medicine in a variety of settings: at the George Washington Hospital, at the GW Center for Integrative medicine, as well as serving patients in home visits.